Dr. Christine Haslock is a General Dentist at Eckhardt Dental Centre in Penticton.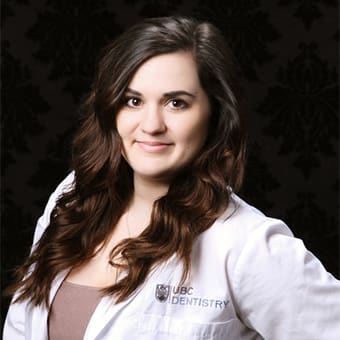 Dr. Christine Haslock
BSc, DMD
General Dentist
BSc, DMD, University of British Columbia
My name is Christine Haslock and I am excited to have recently moved back to the Okanagan, where I was born and raised. Growing up I have always been interested in the healthcare field and have spent time participating in research at the BC Cancer Agency as well as working in a pharmacy for a number of years. I first attended the University of British Columbia Okanagan where I obtained a B.Sc. in Biology, then I went on to UBC in Vancouver for my degree in dentistry.
While I enjoyed living in the big city I was eager to try living in a smaller town for a bit, so I moved to Cranbrook to start practicing. It was a beautiful town with lovely people but I decided the Okanagan is where I belong.
When I'm not at work I enjoy hiking, going to the beach, or exploring the many amazing wineries all around the Okanagan. I am looking forward to working with the wonderful team at Eckhardt Dental and to help provide a great dental experience!